For tolls we built a system that collects all toll data from different toll authorities and aggregates data into an easy to use interface.
See all vehicles In one place
Mark tolls as Billed/processed
Add/remove vehicles to toll authorities
Automatic toll prices
based on toll cash price or fixed ammount/percent
Export expense and profit reports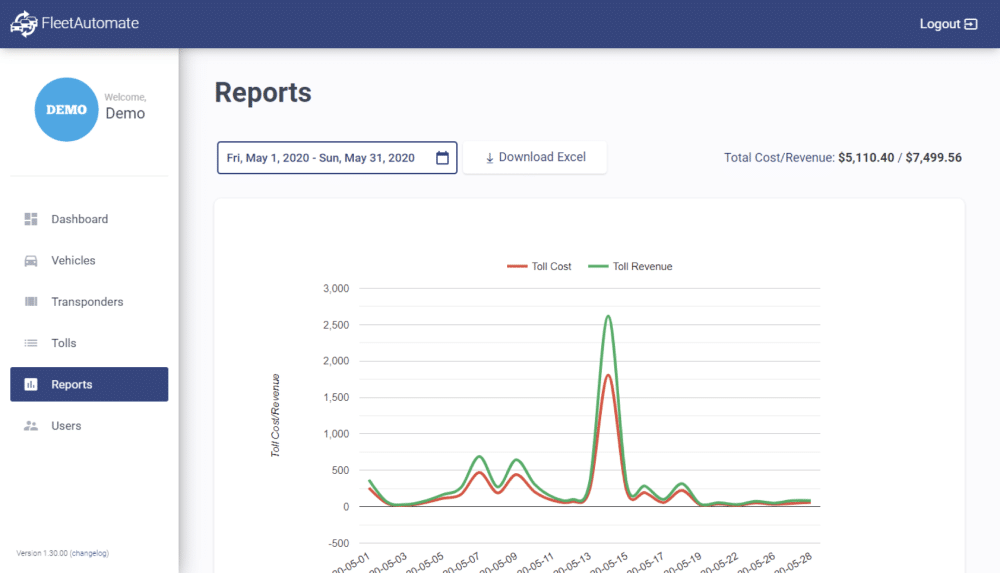 Send us your fleet info and we'll handle all your tolls for almost the entire east coast!

We can provide daily, weekly and monthly reports of your tolls in excel format like this, or integrate into your system via your APIs.

Our platform covers all electronic tolls in the following states:

Delaware, Florida, Georgia, Illinois, Indiana, Maine, Maryland, Massachusetts, New Hampshire, New Jersey, New York, North Carolina, Ohio, Pennsylvania, Rhode Island, Virginia, West Virginia

We can also provide transponders and no-read covers.

Payment options: Either no deposit up front and weekly payments, or put down a small deposit and pay monthly. We accept Zella (no fee), Bank Wire (no fee), Paper Check (no fee), Credit Card (3% fee), and Paypal (3% fee).

To get your vehicles on our system as fast as possible we will need the following information for each vehicle:
License Plate
License State
Make
Model
Year
If you are switching from another provider we also may need a copy of the vehicle registration. If vehicle has non-standard configuration we also need: # of axles, # of tires and vehicle weight (above or below 7,000 lbs).